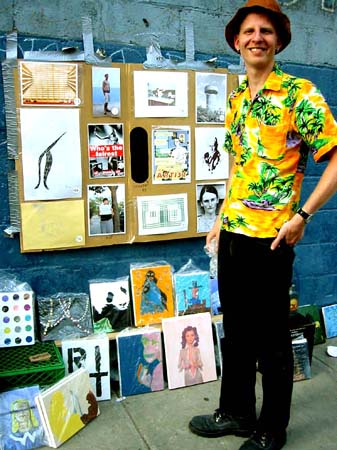 Eric Doeringer en zijn 'Bootlegs'.

Kunstenaar Eric Doeringer verkoopt zijn werk op de stoepen van New York, bij voorkeur een stoep voor de deur van een hippe galerie, waar hij zijn verzameling 'Bootlegs' aanbiedt. Doeringer's bootlegs zijn kopieën van kunstwerken van bekende hedendaagse kunstenaars, die de originelen ín diezelfde hippe galeries verkopen in plaats van op straat. Zo maakte hij een baby à la Marlene Dumas en een 'replica' van Gerhard Richter's Two Candles en schijnt er nog succes mee te hebben ook:

"Doeringer has already made a name for himself among regular gallery-goes for selling "bootlegs", or small replicas of works by successful contemporary artists, made by mounting color printouts of the artworks on canvas and covering the whole thing with gel. Prices start at $40 dollars, and they "do quite well", says the artist." (bron: Artnet.com)

> Eric Doeringer's Bootlegs op ericdoeringer dot com.