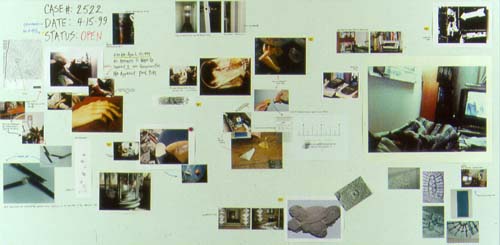 Kunstenaar Aki Fujiyoshi benadert haar eigen leven als was ze een detective, doorzoekt het appartement in New York waar ze woont - de 'scene of the crime' - minitieus op sporen van dat leven en presenteert haar bevindingen en het bewijsmateriaal daarvoor in galeries en musea:

"Central to the exhibition was a six-foot-wide whiteboard, labeled 'Case #2522' and covered with evidentiary photos and handwritten notes just like on television cop shows. Taped to the board is a map of Manhattan pinpointing the location of her apartment, photos showing entrance and hallway views of her building, and photo close-ups of an overturned glass, a broken fortune cookie, used matches, fingerprints and footprints. Ominously, a note on the board reads, "All attempts to wake up subject A were unsuccessful. No apparent foul play. 7:30 a.m., 4/15/99."

> Artnet.com bezocht een expositie van Aki Fujiyoshi en Museum Ludwig Keulen filmde een bezoek aan haar atelier in New York.